Tuesday, November 29th, 2016 at The Sanctuary Music & Events Center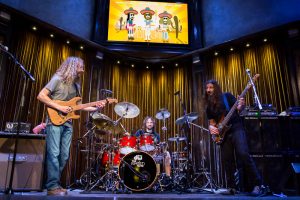 The Aristocrats liked The Guitar Sanctuary's Sanctuary Events Center in McKinney so much, they decided to pay another visit for the very last show of the tour this year!
The special set-list from the show included:
Stupid 7, Bad Asteroid, Sweaty Knockers, Pressure relief, Culture Clash, Ohhhh Noooo (with drum solo), Smuggler's Corridor, Flatlands, Waves, The Kentucky Meat Shower, Living the Dream, Get it Like That (encore)
Bryan Beller and Marco Minnemann will be joining Joe Satriani on his Surfing to Shockwave Tour 2017, while Guthrie Govan will be hosting several clinics in Greece, France, and Italy in January / February 2017, before joining the Hans Zimmer World Tour starting in April 2017.
Photos: Daniel Work / Staff Photographer
©2008-2016 North Texas Live! Images may not be copied, printed or otherwise disseminated without express written permission of North Texas Live! or its agents.