Saturday, August 22nd, 2015 at The Guitar Sanctuary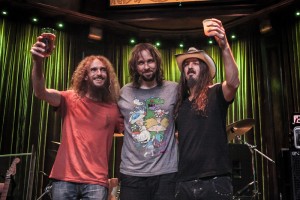 The Aristocrats (with Travis Larson Band supporting) packed in an enthusiastic crowd in a sold-out show at The Guitar Sanctuary's Sanctuary Events Center in McKinney this past Saturday, providing an evening of odd time-signatures galore!
A "supergroup" of sorts, The Aristocrats consist of Bryan Beller on bass (Dethklok, Steve Vai, Mike Keneally, Joe Satriani), Marco Minnemann on drums (Steven Wilson, Joe Satriani, Mike Keneally), and Guthrie Govan on guitar (Steven Wilson, GPS, Asia). Forming in 2011, the band have since released three studio albums; The Aristocrats, Culture Clash, and their latest release, Tres Caballeros, which they are touring in support of. They have also released three live albums, Boing, We'll Do It Live! (CD/DVD), Culture Clash Live! (CD/DVD), and Secret Show: Live in Osaka (limited 2 CD "official bootleg" set from the same Culture Clash tour).
The Travis Larson Band (Travis Larson on guitar, Jennifer Young on bass guitar, and Dale Moon on drums) opened the evening supporting their latest video and CD release, Shift Happens (Live in Mexicali, Mexico) (named after their 2013 release Shift). The band have released seven other albums since 1998 which include; Travis Larson Band, Suspension, Rock Show, Burn Season, Rate of Change, Rate of Change LIVE, and Soundmind.
Related articles:
Steven Wilson – House of Blues – Dallas, TX (2012)
Joe Satriani (w/ Steve Morse) – Verizon Theatre – Grand Prairie, TX (2013)
Photos: Daniel Work / Staff Photographer
©2008-2015 North Texas Live! Images may not be copied, printed or otherwise disseminated without express written permission of North Texas Live! or its agents.