Thursday, August 27th, 2015 at Verizon Theater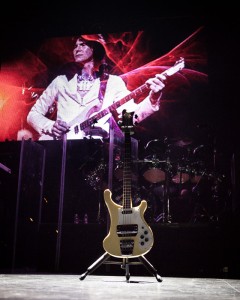 Yes and Toto brought their co-headlining tour to Verizon Theater, Grand Prairie Thursday.
Yes opened their set with a very moving tribute to fallen band-mate and co-founding member Chris Squire, who passed on June 27th, 2015 at the age of 67, from complications of acute erythroid leukemia.
In May of 2015 Yes announced that longtime friend and band-mate Billy Sherwood would temporarily take over Squire's bass and vocal duties due to Squire taking a leave of absence for treatment of his illness. According to drummer Alan White, Chris asked the other members to continue on as Yes, regardless of what happens.
In 2014 the band released Heaven & Earth, the first studio album featuring singer Jon Davison, and the final to feature Chris Squire. They have also release remastered and expanded version of their classic albums, The Yes Album, Close to the Edge, Relayer, and Fragile (which will be release on October 30th), all featuring remastered 5.1 surround-sound and stereo mixes by Steven Wilson.
Toto opened the evening, supporting their latest release Toto XIV. The band also suffered a loss this year with the death of former bass player and vocalist Mike Porcaro, who had retired from the band in 2007 after being diagnosed with ALS (also known as Lou Gehrig's disease). Porcaro lost his battle with the disease on March 15th, 2015 at age 59.
Please visit the ALS Association and the American Cancer Society to learn what you can do to help battle these terrible diseases.
Photos: Daniel Work / Staff Photographer
©2008-2015 North Texas Live! Images may not be copied, printed or otherwise disseminated without express written permission of North Texas Live! or its agents.