Tuesday, August 18th, 2015 at Verizon Theater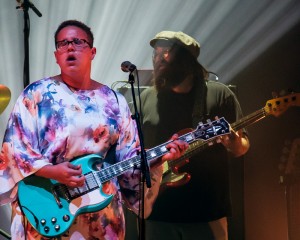 Alabama Shakes performed Tuesday evening to a packed crowd at Verizon Theater, Grand Prairie.
Keeping the stage setup simple with no giant back-screens, or super fancy lighting, singer/guitarist Brittany Howard strapped on her Pelham Blue Gibson and with the help of Zac Cockrell on bass guitar, Heath Fogg on guitar and backing vocals, Steve Johnson on drums, and Ben Tanner on keys, the band fueled the crowd with an hour and a half of pure energy, emotion, and much talent. The band is promoting their latest release Sound & Color, which debuted at number one on the Billboard 200. Alabama Shakes has found huge success since the release of their first album Boys & Girls in 2012. Brittany recently joined the stage with none other than the legendary Paul McCartney for his performance of The Beatles Get Back during his headlining slot of the 2015 Lollapalooza festival in Chicago.
Opening the evening was Drive-By Truckers, who actually played a hand in Alabama Shakes initial success after vocalist Patterson Hood arranged to set the band up with his managers (ironically, Alabama Shakes used to open shows for Drive-By Truckers!). Supporting their latest release, 2014's English Oceans, the band will also be releasing a new live album on October 30th entitled It's Great To Be Alive (available for pre-order here).
Photos: Nicolette Work / Staff Photographer
©2008-2015 North Texas Live! Images may not be copied, printed or otherwise disseminated without express written permission of North Texas Live! or its agents.