Monday, December 5th, 2016 at The Bomb Factory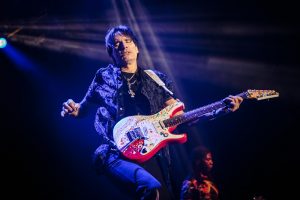 Steve Vai performed at The Bomb Factory in Dallas this past Monday, commemorating the 25th anniversary of his landmark release Passion and Warfare.
Vai also recently released the Passion and Warfare 25th Anniversary Edition, a remastered version of the original recording featuring four bonus tracks, and a new companion album called Modern Primitive, which includes unreleased material that was either recorded or written after Vai's first solo record Flex-Able and prior to the writing and recording of the music on Passion and Warfare.
Along with the entirety of the Passion and Warfare album, Steve Vai and his band (consisting of Dave Wiener on guitar, Jeremy Colson on drums, and Philip Bynoe on bass guitar) also performed other Vai classics; Bad Horsie, The Crying Machine, Gravity Storm, Tender Surrender, Fire Garden Suite IV – Taurus Bulba.
Photos: Daniel Work / Staff Photographer
©2008-2016 North Texas Live! Images may not be copied, printed or otherwise disseminated without express written permission of North Texas Live! or its agents.