Sunday, April 9th, 2017 at The Guitar Sanctuary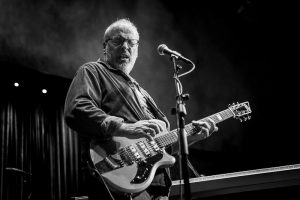 For the last show of their tour Mike Keneally & Beer For Dolphins made a stop at The Guitar Sanctuary in McKinney this past Sunday.
Originally scheduled for Friday, April 7th, the band's flight from New Jersey was cancelled due to heavy storms. However, being the hard-working professionals they are, Keneally, Bryan Beller (bass), and Joe Travers (drums) took to the road and drove all the way from the East Coast to McKinney, TX so as not to disappoint their fans.
From Mike's website bio: "Keneally played in Frank Zappa's last touring band, performing as a vocalist, guitarist and keyboardist. He's appeared on many Zappa albums, is currently a touring member of both Dethklok and the Joe Satriani Band, and has also recorded or performed with Robert Fripp, Wayne Kramer, Kevin Gilbert, Solomon Burke, Steve Vai, Chickenfoot, Bear McCreary, Henry Kaiser, Michael Manring, Screamin' Jay Hawkins, Andy Prieboy, Mullmuzzler, The Persuasions and many others."
You can pick up a copy (or download) Mike's latest release 'Scambot 2' on his website.
FranzenStine, composed of The Guitar Sanctuary's own Clint Franzen and Scott Stine, opened the evening with their shredding acoustic covers of classic metal and rock hits.
Photos: Daniel Work / Staff Photographer
©2008-2017 North Texas Live! Images may not be copied, printed or otherwise disseminated without express written permission of North Texas Live! or its agents.