Friday, April 27th, 2018 at The Sanctuary Music & Events Center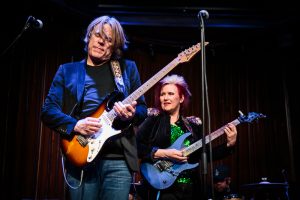 After an appearance at the Dixie Dreggs show last week, Andy Timmons and Jennifer Batten decided to put together a show at the Guitar Sanctuary's Sanctuary Music and Events Center this past Friday, while Jennifer was in town.
Jennifer Batten, best known for her work with Michael Jackson and Jeff Beck, opened the evening with her multimedia solo performance. Jennifer is promoting her latest release 'Battlezone', featuring Marc Scherer on vocals, and "material exclusively from the Jim Peterik (ex-Survivor, Pride Of Lions, The Ides of March) songbook. Featuring 8 rare musical gems from Jim's songwriting vault, the album also features 3 brand new tracks, written for this project."
McKinney's own Andy Timmons put together an all-star band dubbed the "Badass Band", featuring Bobby Sparks (Prince, Herbie Hancock, Snarky Puppy) on B3 organ, Jason "JT" Thomas (Snarky Puppy, Mark Lettieri) on drums, Michael Medina on bongos and guitar, and A.J. Brown picking up the bass duties. The band was later joined by Jennifer Batten, Maylee Thomas-Fuller, and Carly Reign, and performed many great covers, with the theme being the year '1974'.
Photos: Daniel Work / Staff Photographer
©2018 North Texas Live! Images may not be copied, printed or otherwise disseminated without express written permission of North Texas Live! or its agents.