Friday, January 5th, 2018 at The Sanctuary Music & Events Center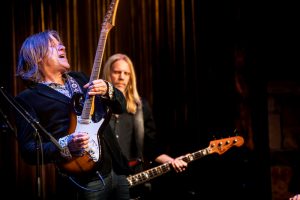 The Andy Timmons Band performed at The Guitar Sanctuary's Sanctuary Music & Events Center Friday night.
Andy, with the help of his long-time bandmates Mike Daane (bass guitar), Rob Avsharian (drums), and newest member Richard Martin (keyboard), played material from his past catalogue including their latest release, 2016's 'Theme From a Perfect World', and even previewed some new material his yet-to-be-recorded album.
Also, be sure to check out the new album, 'Bossa Hits – Andy Timmons & Sydnei Carvalho Play Bossa Nova'
The Guitar Sanctuary's own Nick Knirk, along with violinist Michael Horne opened the evening, performing material from their new album 'Acoustically Speaking'.
Photos: Daniel Work / Staff Photographer
©2018 North Texas Live! Images may not be copied, printed or otherwise disseminated without express written permission of North Texas Live! or its agents.