Friday, Sept. 22nd, 2017 at The Guitar Sanctuary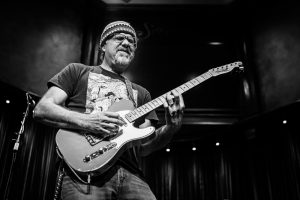 Greg Koch made it back to The Guitar Sanctuary's 'Sanctuary Music and Events Center' for the second time this year, this time with his new project, The Koch-Marshall Trio; featuring Toby Lee Marshall on the B3 organ, and Greg's son, Dylan Koch on drums.
"At the heart of this organ trio is a blues sensibility – but Koch's compositions are an amalgam of rock, funk, jazz and country served up with heavy grooves and dynamic improvisations delivered with no small dose of humor and occasional wild abandon." –gregkoch.com
And much wild abandon ensued Friday night! McKinney's local guitar-legend Andy Timmons, along with Mark Lettieri (of Snarky Puppy) joined Greg and the boys on stage for a few songs. (Fortunately the stage was strong enough to hold that amount of pure talent! As Greg would say; "Can you dig it!")
The Koch-Marshall Trio has a new CD due for release in February of 2018 called 'Toby Arrives', which will be available on Greg's online store.
Fort Worth's own Mark Lettieri and The Mark Lettieri Trio opened the evening. The bands latest release is 2016's 'Spark and Echo', available for purchase on Mark's online store.
Photos: Daniel Work / Staff Photographer
©2017 North Texas Live! Images may not be copied, printed or otherwise disseminated without express written permission of North Texas Live! or its agents.