Friday, Sept. 15th, 2017 at The Guitar Sanctuary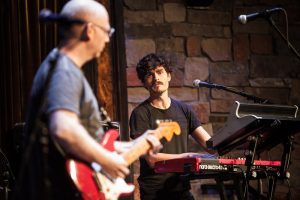 Ozone Squeeze performed at The Guitar Sanctuary's 'Sanctuary Music and Events Center' this past Friday evening.
Featuring Oz Noy on guitar, Rai Thistlethwayte on vocals and keys, and Darren Stanley on drums, the band is touring support of their self-titled debut album. As described on their website's bio page: "Cut over the course of just three days, the trio cannily facilitate their new collaboration via a set consisting largely of familiar compositions from the rock, soul, and even jazz canons – many of which are surprisingly, insightfully re-imagined – along with three originals from Thistlethwayte. The songs provide common ground, but are not subject to common treatments. The Beatles' "Come Together" opens the set, pared down to a broken sixteenth-note backbeat over which Noy layers molten shards of distortion that illuminate the song's roots in the blues while adding sinister new overtones. Elsewhere, The Proclaimers' "I'm Gonna Be (500 Miles)" is reborn as slow-burning soul testimony, with a daring, skeletal approach supporting Thistlethwayte's yearning, urgent vocal. "When approaching established material," Noy explains, "you need to support the song, but still give it your own twist and sound. It's a subtle thing…" For Ozone Squeeze, the song feeds into the improvisations while, at the same time, the improvisations feed back into the song.
Throughout Ozone Squeeze, the trio makes a virtue of space – bravely letting instruments resonate against spartan backdrops, letting the arrangements breathe. Rai Thistlethwayte, known internationally as frontman of the successful Australian band Thirsty Merc, is a triple threat, often performing lead vocals, keyboards, and keyboard bass simultaneously. Oz Noy, whose own music is a harmonically inventive, off-kilter subversion of blues and rock best encapsulated on his two-volume Twisted Blues series. The Atlanta-based Stanley provides the heartbeat. "His playing is all about pocket," says Thistlethwayte, "Darren is solid but also nuanced and agile. I love how he adds electronic sounds really tastefully, alongside his acoustic kit sounds."
FranzenStine, composed of The Guitar Sanctuary's own Clint Franzen and Scott Stine, opened the evening with their shredding acoustic covers of classic metal and rock hits.
Photos: Daniel Work / Staff Photographer
©2017 North Texas Live! Images may not be copied, printed or otherwise disseminated without express written permission of North Texas Live! or its agents.