Friday, May 19th, 2016 at Gas Monkey Live!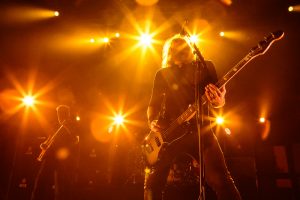 Mastodon piled in quite a crowd Friday night at Gas Monkey Live! with Eagles Of Death Metal and Russian Circles opening the evening.
Hailing from Atlanta, GA, Mastodon formed in 2000. Band members Troy Sanders (bass and vocals), Brann Dailor (drums and vocals), Bill Kelliher (guitar and backing vocals), and Brent Hinds (guitar and vocals), are touring in support of their latest release Emperor of Sand.
Originally formed in 1998 by Jesse Hughes (guitar and vocals) and Josh Homme (drums) are the only two permanent members of the band, however Eagles Of Death Metal have featured many different musicians in the studio and on the stage. Josh Homme rarely tours with the band due to commitments with other projects. Their latest release is 2015's Zipper Down. On November 13, 2015, while the band were on stage at the Bataclan in Paris, France, suicide-vest clad terrorists attacked the audience using automatic rifles and grenades killing a total of 89 people, including the bands merchandise manager. However, the band members were able to escape through a backstage door.
From Chicago, Russian Circles features Mike Sullivan on guitar, Dave Turncrantz on drums, and Brian Cook on bass. The band latest studio release is 2016's Guidance. They also just released a new live album called Live at Dunk! Fest.
Photos: Daniel Work / Staff Photographer
©2017 North Texas Live! Images may not be copied, printed or otherwise disseminated without express written permission of North Texas Live! or its agents.