Friday, November 14th, 2014 at The Kessler Theater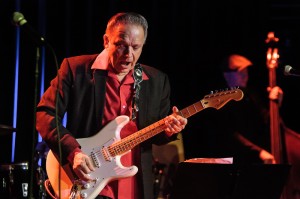 Jimmie Vaughan and the Tilt-A-Whirl Band performed at The Kessler Theater Friday evening, with the Jitterbug Vipers supporting.
Jimmie Vaughan, (a Dallas native and brother of legendary "guitar-god" Stevie Ray Vaughan), started his first band, The Swinging Pendulums at age 15, then joining The Chessmen at 16, who only a few years later found themselves opening for Jimi Hendrix in Fort Worth, TX. Vaughan is best known for his work with The Fabulous Thunderbirds, releasing seven studio albums with them between 1979 and 1989, before joining his brother to release the album Family Style in 1990. Jimmie Vaughan has since released five solo albums (the latest being 2011's Plays More Blues, Ballads & Favorites), and has starred in the film Great Balls of Fire! as Roland Janes (starring close friend Dennis Quaid as Jerry Lee Lewis).
The Jitterbug Vipers are a four-piece "viper-jazz" band, self-described as "the original and only trippy-swingadelic 1930's rock band on Planet Earth". Their latest release is 2013's Phoebe's Dream.
Photos: Daniel Work / Staff Photographer
©2008-2014 North Texas Live! Images may not be copied, printed or otherwise disseminated without express written permission of North Texas Live! or its agents.