Friday, Nov. 22nd, 2013 at the Dallas House of Blues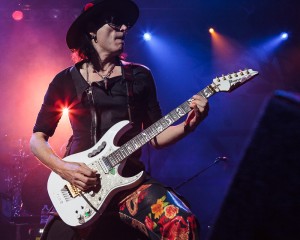 A very enthusiastic Steve Vai performed at the Dallas House of Blues Friday night, playing a multitude of material from his extensive career, including his latest (2012) release 'The Story of Light'.
A former student of Joe Satriani (see photos from Joe's Grand Prairie show this past September), Steve started his career as guitarist for the legendary Frank Zappa, and has also recorded and toured with acts such as David Lee Roth and Whitesnake, among others. Steve also appeared in the 1986 film 'Crossroads' in the famous scene where his character Jack Butler goes head-to-head with Ralph Macchio's Eugene Martone in a guitar duel.
Local players, and winners of the 'Best in Shred' contest, Neil Swanson and Adam Frost warmed up the crowd, shredding away to some pre-recorded backing tracks before Steve Vai, Dave Weiner, Jeremy Colson, and Philip Bynoe took the stage.
Photos: Daniel Work / Staff Photographer
©2013 North Texas Live! Images may not be copied, printed or otherwise disseminated without express written permission of North Texas Live! or its agents.