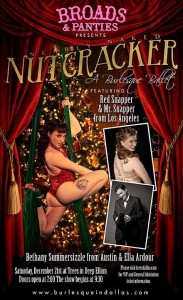 Looking for a fun "adults only" night out this holiday season? Keep warm and join the hot and steamy Nearly Naked Nutcracker! This Broads & Panties production will be held December 21st, 8pm at Trees in Deep Ellum. Tickets are available at Trees Dallas website.
From the Facebook event page…
"This one isn't for the kids, just for the adults. 
Our 3rd annual smash hit NEARLY NAKED NUTCRACKER, the burlesque adaptation of the Christmas classic, hit TREES for an exclusive, one-night-only engagement on Dec 21st at 8 pm!
Ballet, aerial arts, pole performance and burlesque meet to tell the classic tale but with a delightfully naughty twist for the adults to enjoy!
STARRING :Ms. Red Snapper and Mr. Snapper from Los Angeles, Aerial & contortion feats by Bethany Summersizzle of Sky Candy & Frisky Business, Austin with special guest Miss Texas Pole Star 2013 Lisa Cannon
FEATURING: Southern Fried King of Boylesque STEPHAN, Aerial Lyra Ballet by ELLA ARDOUR and her Cavalier
PIXIE O'KNEEL & REYA Del SOL, BLAZE, BETTIE MARTINI, THE TASSELLED SQUIRREL
…and more to be announced!
HOSTED BY: Violet O'Hara"