Friday, September 16th, 2016 at Verizon Theater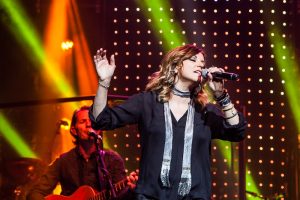 Band Against Cancer: The Sarah Cannon Tour (featuring Martina McBride, Thompson Square, Cassadee Pope and Hudson Moore) kicked off the very first show of the tour right here in Grand Prairie to a packed crowd at Verizon Theater this past Friday.
"Band Against Cancer is a cancer awareness initiative activated through a concert series, The Sarah Cannon Tour, (led by Sarah Cannon, Martina McBride, and the Big Machine Label Group) featuring Martina McBride and other artists, is aimed to ensure patients facing blood cancer have access to the best possible resources close to home. At each concert, attendees will have the opportunity to participate in Band Against Cancer through special on-site activities. Full details about each stop of the tour will be announced in the coming months at: www.bandagainstcancer.com"
Editor's Note: I was invited by Be The Match as an honored guest to the show; I have been on the registry for a total of 8 years, and a little over a year ago I had the honor of being an anonymous match for an 8 year old boy with Fanconi Anemia. Recently I've had the pleasure of meeting my blood-brother, Trevor (who is now 10 years old!), and his incredible family. With the help of his comic-book loving father, Trevor and his family came up with the idea of Marrow Man, a comic-book character aimed at helping young children with blood-disorders cope with their situation, and inspire them to keep fighting. To learn more about Marrow Man, please visit their website at the Epic Battle Campaign.
You can also learn more about my story, and contribute financially to Be The Match by visiting my online fund-raising page. If you are between the age of 18-44, you can also join the registry yourself and possibly be someone's cure. Visit my Marrow Man For a Cure page to get started!
Photos: Daniel Work / Staff Photographer
©2008-2016 North Texas Live! Images may not be copied, printed or otherwise disseminated without express written permission of North Texas Live! or its agents.