Wednesday, September 23rd, 2015 at Gexa Energy Pavilion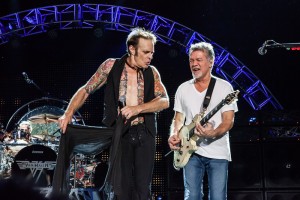 Van Halen performed at Gexa Energy Pavilion this past Wednesday, with the Kenny Wayne Shepherd band opening the evening.
Van Halen has taken many incarnations since their formation in 1972, with guitarist Eddie Van Halen originally taking the spot as lead vocalist, with his brother Alex Van Halen on drums, and original bass player Mark Stone.
In 1974 the band recruited vocalist David Lee Roth, and bassist Michael Anthony. Spiraling upwards in fame, the band didn't release their debut album until 1978. As tensions grew within the band, Roth departed in 1986, seeing Sammy Hagar taking over lead vocal duties. In 1996 Hagar parted ways (due to musical differences and tensions with the bands new manager, Ray Danniels), which saw a very brief reunion with Roth, who recorded new material for the bands Greatest Hits release the same year. As rumors began of Roth joining the band, personal tensions obviously not resolved led to a dead-end.
Ex-Extreme vocalist Gary Cherone joined the band the same year. After declining popularity and decreasing albums sales, Cherone parted ways in 1999, citing musical differences. After an almost five-year hiatus, Hagar re-joined the band 2003 briefly until Roth took over the helms once again in 2006, which also saw the departure of bassist Michael Anthony. Eddie Van Halen's son, Wolfgang, has taken over bass duties ever since.
Van Halen has released 12 albums in the course of their history, with the latest being 2012's A Different Kind of Truth.
The Kenny Wayne Shepherd band opened the evening. The band recently released Little Something From the Road Vol. 1, live recordings culled from the extensive 2014 tour following the release of Goin' Home. With less than 3,000 pressed on vinyl and 1500 on CD worldwide, the album has already become a collectors item.
Related articles:
Experience Hendrix – Verizon Theatre – Grand Prairie, TX – March 11th, 2014
Kenny Wayne Shepherd – House of Blues – Dallas, TX – July. 20th, 2014
Photos: Daniel Work / Staff Photographer
©2008-2015 North Texas Live! Images may not be copied, printed or otherwise disseminated without express written permission of North Texas Live! or its agents.