Friday, November 7th, 2014 at Verizon Theater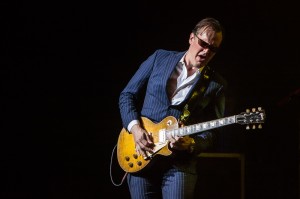 Joe Bonamassa packed in quite a crowd Friday evening at Verizon Theater, playing an acoustic set for the first half of the evening, and plugging in with an electric set for the second half.
First picking up a guitar at the young age of 4, Bonamassa began his career onstage opening for B.B. King in 1989, when he was only 12 years old. He has since released 15 solo albums within the past 13 years.
His latest release is Different Shades of Blue, in which he received his very first Grammy nomination for Best Blues Album. He is also featured on the cover of Guitar Player Magazine's special Holiday issue, which hits the stands on November 26th.
Joe Bonamassa has also founded a non-profit organization called Keeping the Blues Alive that donates all proceeds to school music programs by partnering with sponsors such as Guitar Center, Ernie Ball, and Joe's own label, J&R Adventures. "Keeping The Blues Alive Foundation fuels the passion for music by funding programs and scholarships for students and teachers who possess the desire, but lack the resources or access to achieve their potential within the music industry. " -keepingthebluesalive.org
Photos: Daniel Work / Staff Photographer
©2008-2014 North Texas Live! Images may not be copied, printed or otherwise disseminated without express written permission of North Texas Live! or its agents.